The Ultimate Wood Sign For Your Business
While we may be biased (we are), cedar sandblasted signs are the best choice when it comes to promoting your business. Why?
First, these custom-crafted gems are handmade right here in Chilliwack, B.C. from kiln-dried western red cedar.
Second, when blasted at high-pressure with a coat of fine sand, this lightweight, rot-resistant wood displays a one-of-a-kind, marked-grain pattern that has a wow factor of 10.
Lastly, whatever your business goals, a cedar sandblasted sign will promote and legitimize your enterprise with a unique elegance that will leave your customers coming back for more.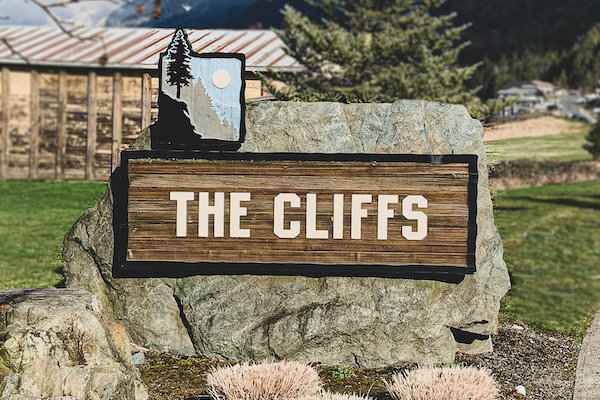 What Are Cedar Sandblasted Signs?
Sandblasted signs are a dimensional sign made from laminated Western Red Cedar. To achieve its 3D look, a rubber "mask" is applied to the substrate, and the negative space is removed by a spray of sand, blasted at high pressure against the wood.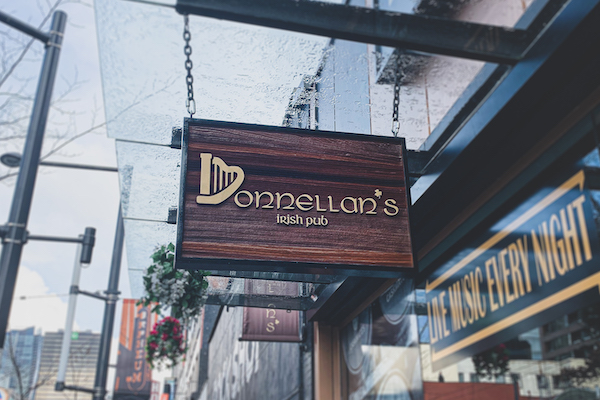 Why Cedar and Why Sandblasted?
Kiln-dried western red cedar is relatively lightweight and rot-resistant for ease of transport and durability. Sandblasting cedar form a unique, dimensional look that is unrivaled in beauty. Make your business stand out with a cedar sandblasted sign.
Features of Signature Signs Sandblasted Cedar
Reinforced laminated cedar

Cross-grained blasting

Fine-grain sand

High-gloss finish

Handpainted lettering and graphics

Custom made to order
How A Sandblasted Sign Will Boost Your Business
Our made-to-order dimensional wood signs are designed with care and craftsmanship by a dedicated in-house design team. Your vision, we execute.
Because of our steel-reinforced laminating process, size is not an issue for your sandblasted wood sign. It will look amazing for a long time!
Fine-grained sand and cross-grained laminate reveal a one-of-a-kind cedar sandblasted wood grain that will leave you breathless. 
Kiln-dried western redwood keeps the cedar wood sign well preserved and can last up to 25 years outdoors in all weather.
How A Sandblasted Sign Is Made
Signature Sign Studio uses only kiln-dried Western Red Cedar wood, a lightweight, rot-resistant wood that, when blasted, displays beautiful marked grain patterns.
Step 1. Select Wood and Laminating
Cedar is carefully selected, laminated with waterproof boat glue, and when size dictates, reinforced with steel bars for extra durability and strength. 
Step 2. Rubbering Up
During the "rubbering" stage, a design specific mask is applied—for lettering, graphics, and border—to the wood substrate and the wood sign is now ready for blasting.
Step 3. Sandblasting the Cedar
High-pressure, environmentally benign, fine-grained sand is carefully blasted for even depth and coverage of the unmasked wood.
Step 4. How It Works
The sand hits the wood to reveal an amazing wood grain but bounces off the rubber mask leaving a custom 3D look. 
Step 5.
Cedar is carefully selected, laminated with waterproof boat glue, and when size dictates, reinforced with steel bars for extra durability and strength. 
Roll Of Cedar In Indigenous Society
Western red cedar has a considerable history of use by indigenous societies of the pacific northwest coast of North America. The dependence of coastal tribes on the tree for basic materials is evident in the range of products crafted for everyday use, from totem poles and housing to masks, canoes, instruments, utensils, and much more. Signature Signs is proud to acknowledge the exquisite history of this tree and the impact it has had on the region for the past 10,000 years!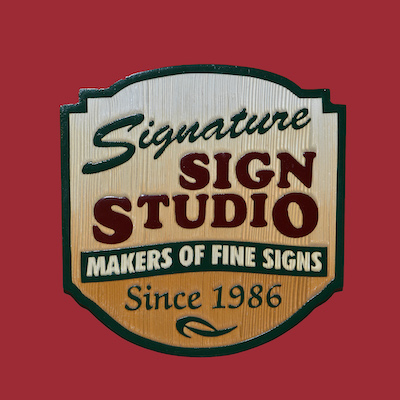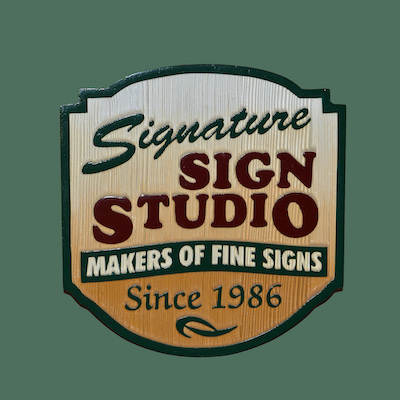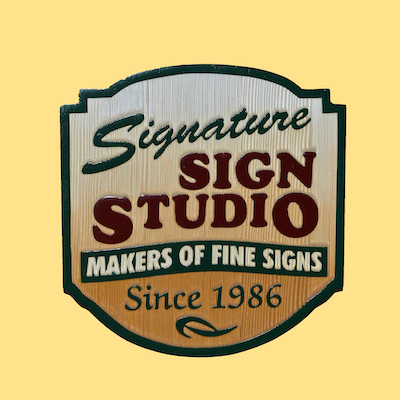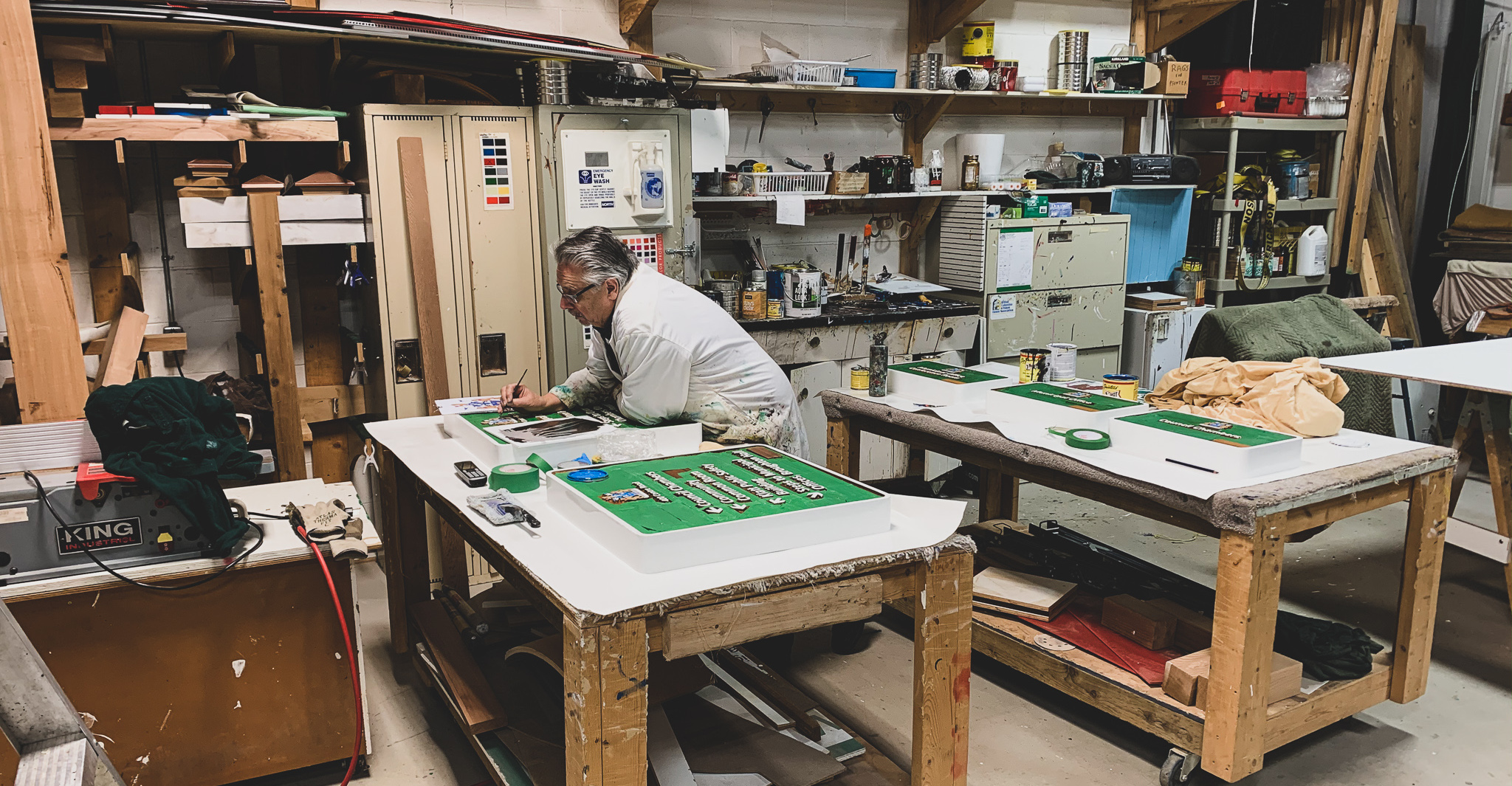 Steve Delamar
Our lead designer and overall artistic guru. When he is not hand-painting cedar signs he can be found in his backyard studio painting canvas' of an idyllic scene from nature.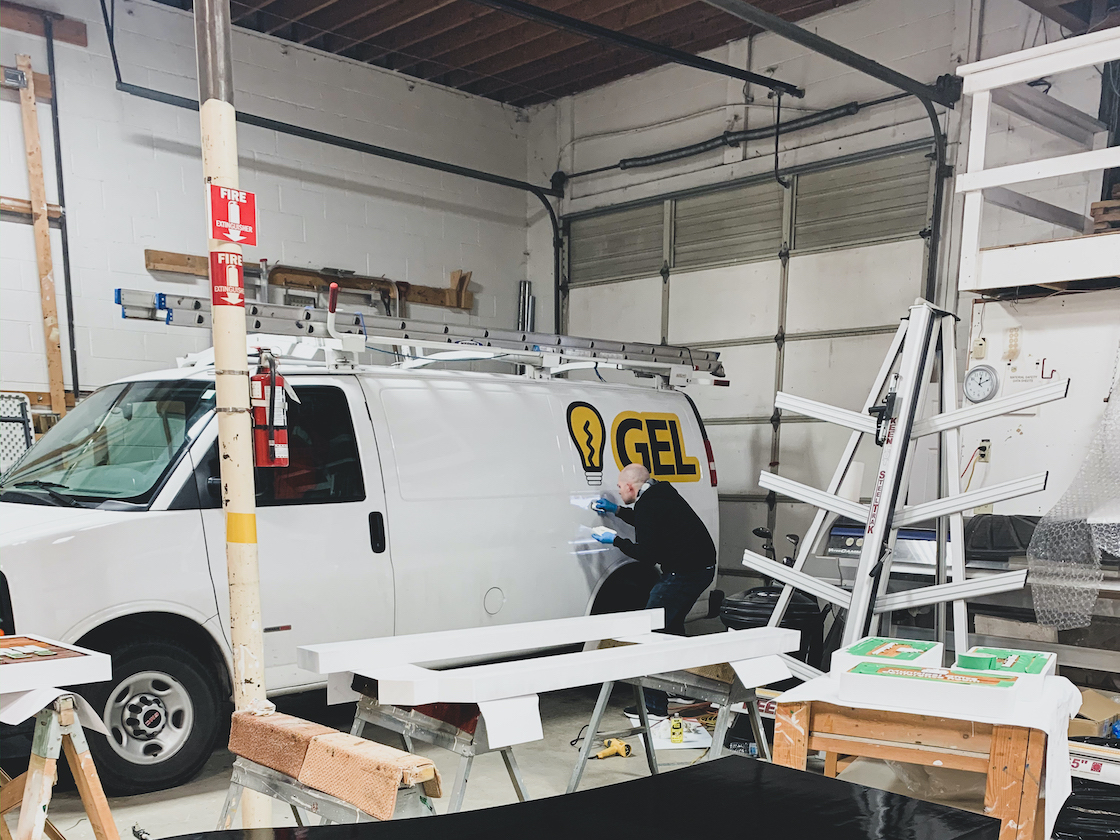 Jeff Jamieson
Our shop manager and assistant designer. Jeff is a premier sign technician who works diligently to make sure that every sign order that comes in is handcrafted to the highest quality and craftsmanship.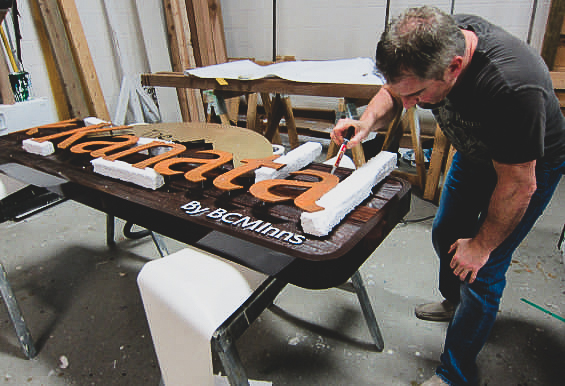 Glenn Holm
Our sandblast technician. Glen is the handyman's handyman. If you can make it with your hands, Glenn can make it. It is this can-do attitude that he brings to each sandblasted sign.
Marg Delamar
Otherwise referred to as the General. Margaret's passion for signage is unmatched in Chilliwack. It is generally recognized that we would all be hopelessly unemployed without her to keep us on task.